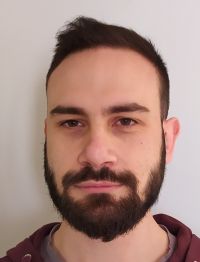 Chris Kostaras has initiated his doctorate diploma studies in the department of Chemical Engineering of the University of Patras in 2018. He is holding a Master's diploma as well as a graduate degree from the department of Physics of the University of Patras. He has taken part as a speaker in the 10th Panhellenic Scientific Conference in Chemical Engineering. He has also participated in workshops conducted by ICE-HT/FORTH and at the 2021 Graphene Industrial Forum.
Research Interests
-Development of paper-like structures based on the combination of CNTs and graphene, MoS2, WS2, BN, graphene oxide (GO) and reduced graphene oxide (rGO).
-π- and covalent crosslinking of GO and rGO stacked materials
-Thermal and electrical conductivity of nanomaterial-based structures.
-Interface between CNT paper-like substrates and nanoscale membranes
Current Research Project
CAERUS (Carbon nanofilters of enhanced rigidity for unpolluted air and gas sensing)